Affiliate Software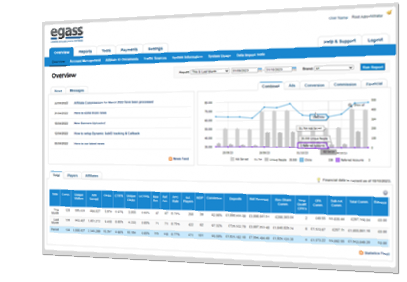 Our affiliate software caters for all industry verticals including online gaming, fxtrading, retail ecommerce and multi level marketing industries. Deployed in multiple configurations to meet the exact requirements of every client we cater for digital businesses from start-up, mid-size expanding and enterprise clients.

Our flexible multi layer platforms can be deployed in multiple configurations to meet the exact business needs of each client and are delivered with the relevant functionality, terminology and features to meet the requirements of each industry vertical.

Feature rich new technology software combined with scalable solutions to provide you with a full-service solution which includes core software upgrades, reliable hosting, content delivery, data management and professional support services. Enterprise clients have the ability to fully customise the affiliate platform with bespoke feature development by our vastly experienced team.

As standard all platforms are delivered fully responsive for PC, Tablet and Smartphone devices with multi currency and multi language solutions including English, Swedish, Czech, German, Spanish, French, Croatian, Hungarian, Italian, Japanese, Polish, Russian, Arabic, Chinese and Simplified Chinese, Sumoi, Indonesian, Korean, Malay, Thai and Vietnamese languages.

Additional languages can be easily integrated on request. The platform is configured to your chosen base currency with Admin and Affiliate users also having the ability to create accounts and operate in any available currency.

Integrate using either a RAPI integration method or a Pixel tracking method for the most reliable and robust form of integration between our platforms and your back office we make it easy to realize a remote programming application interface. Our systems support a variety of different RAPI types including XML/RPC, SOAP and WSDL as well a choice of Array or CSV data return and multiple transfer protocols such as FTP, SFTP and HTTP.
EGASS / IGAMING
ETRASS / FX-TRADING
ERASS / RETAIL-ECOMMERCE
DIGITALMLM / MULTI LEVEL MARKETING